Do you have 'green fingers'?
Are you creative with your hands?
Do you enjoy working outdoors???
We need you!!!!
St Patricks PS Aghagallon are eager to continue to enhance their Eco Status and build upon their green flag. We are inviting anyone in the local community who would like to participate in our annual green day on Friday 16th March (commencing 9.30 am) to contact the secretary's office. If you would like to help the children and staff develop the local grounds e.g. litter picking, planting, weeding, using pallets or recycling etc. Please contact the school's office on 02892651017 before Monday 12th March 2018 with your expertise.
E-J Morgan
Eco- Coordinator
Please click on the link below to open the Autumn 2017 Sustrans Active Travel Newsletter as our school receives recognition for their efforts in obtaining the Bronze Award this year.
Santa Claus and his eldest Elf came to visit our school today. Christmas letters were all collected and are on there way back to the North Pole with Santa.
Mrs Judge Primary 1/2 Assembly Morning: Mother Teresa said in her Nobel Peace Prize acceptance speech "If you want to change the world, go home and love your family." Primary 1/2 learned about Mother Teresa's good work and the importance of family. It was a great assembly and all the children performed wonderfully. WELL DONE P1/2
6th December was 'Ditch The Dark' day. The pupils made such a great effort and with our Active Travel programme organised by Sustrans and our school was awarded Bronze Excellence in Sustainable Travel.
Please click on the title to open.
Take a few minutes and browse through our Halloween Parade gallery. A great day was had by all
On 12th October children took part in a Special assembly for the National Day of Prayer for Children. This was sponsored by the Society of Missionary Children. The Theme was "Let's Be Family".
The Mission Prayer is:
May all children
In the world
Share love
Share friendship and live
In the peace
Of God's Love
Now and forever, Amen.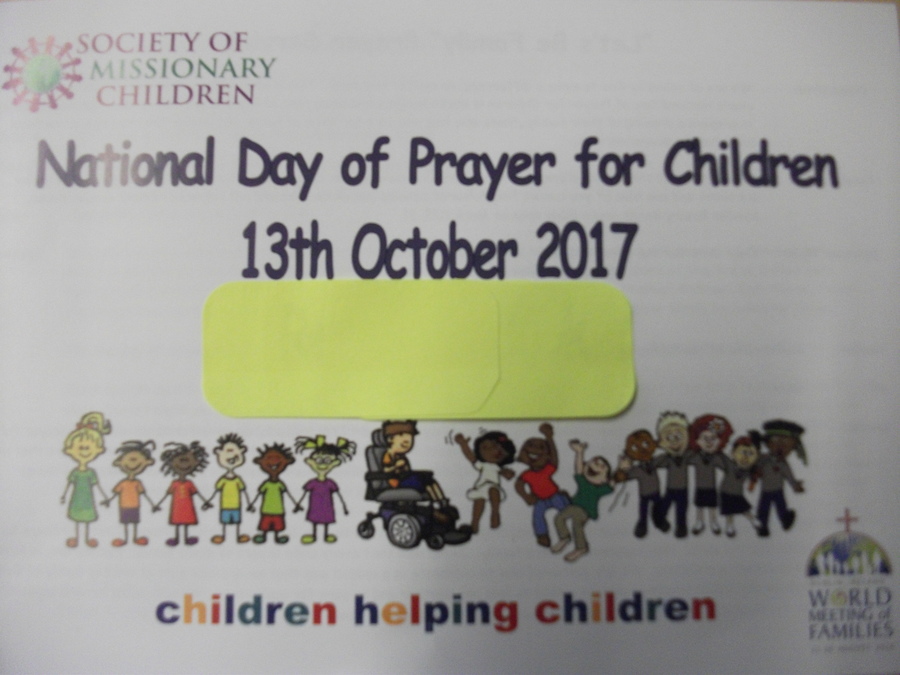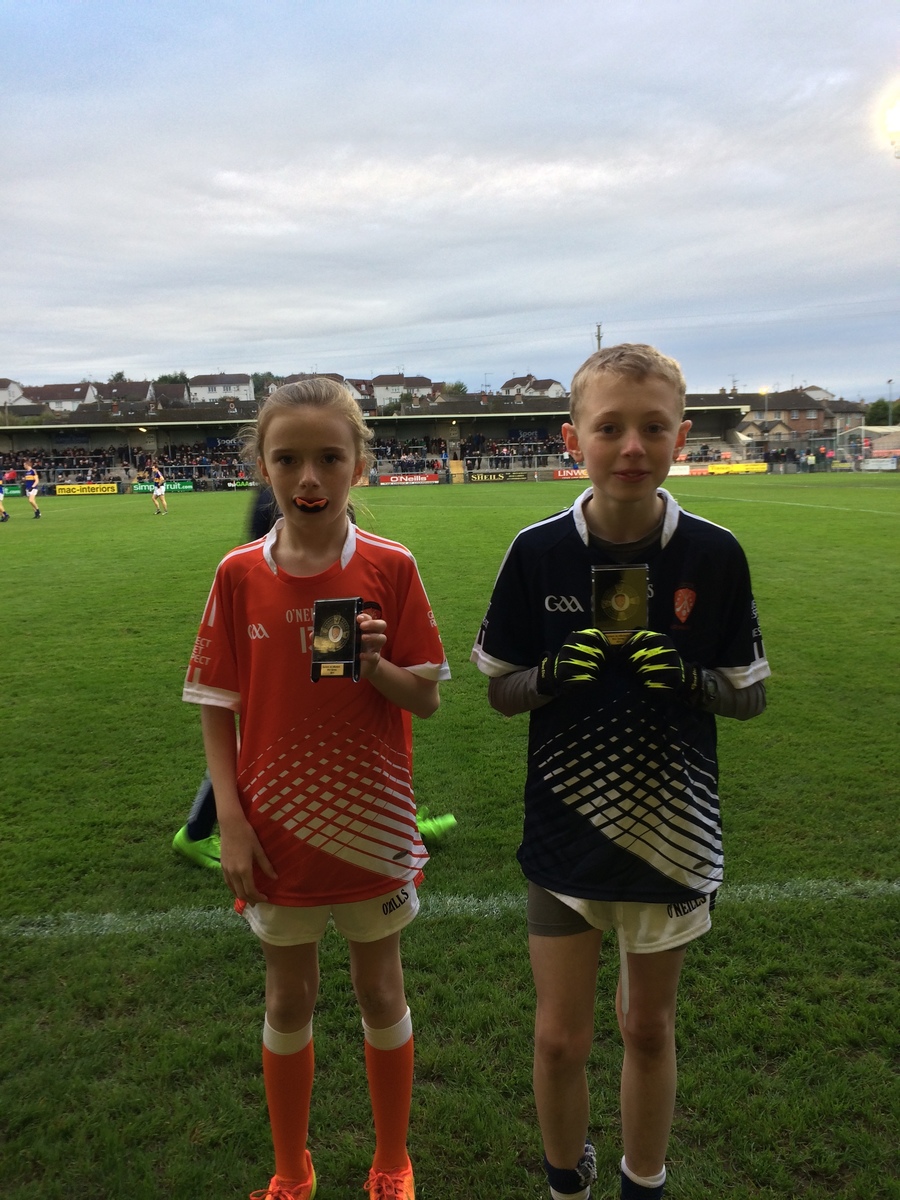 Two of our Gaelic players were chosen to represent our school at the half time game during the Armagh Senior County Championship Final in the Athletic Grounds on Sunday 15th October. They both played very well and thoroughly enjoyed their experience. Well Done.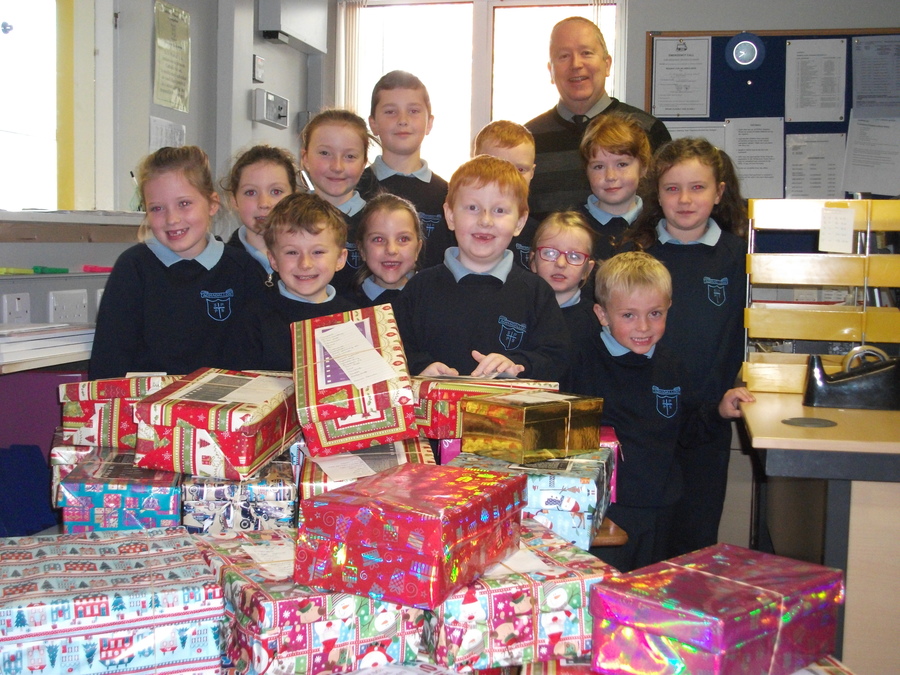 Pictured above with donated shoe boxes for the Romanian 2017 Christmas Shoe Box Appeal are Principal, Mr O' Hara and some of our pupils. Many thanks for your kindness. Also thanks to our pupils for helping to load the lorry with the shoe boxes kindly donated throughout the parish.
Lets present this year's Student Council, followed by The Librarians and finally this years Head Girl and Head Boy. Well done to you all.
St Patrick's Staff would like to congratulate former pupil Adam McShane on his fantastic achievement of A Level results. Adam was awarded Top achiever at Lismore Comprehensive at their resent Annual Prize Giving evening. WELL DONE.
One of our Primary 1, soon to be Primary 2 pupils displays his gardening skills.
His Sunflower has gone from 17inches on the 21st June, to 24inches on 8th July, then reaching 37inches on 25th July and today 10th August has reached an amazing 43 inches, and I do believe I can see a flower at the top. Today 21st August we have reached 49 inches. Our beautiful yellow Sunflower has appeared today 28th August at 51inches high . What an achievement.
SPORTS DAY 2017 - What a great day was had by everyone. Huge congratulations to all pupils for their great efforts and participation in all events. Big Round of Applause to our overall winners Armagh, runners-up Monaghan and taking third place this year was Tyrone.
Beautiful pictures of First Holy Communion Day. Thank you to everyone who helped in any way to make this such a special day for the children.
What an amazing amount of money raised by our school for Trocaire. Our thanks to the whole community for their generosity. The staff of St Patrick's wish you all a very Happy Easter.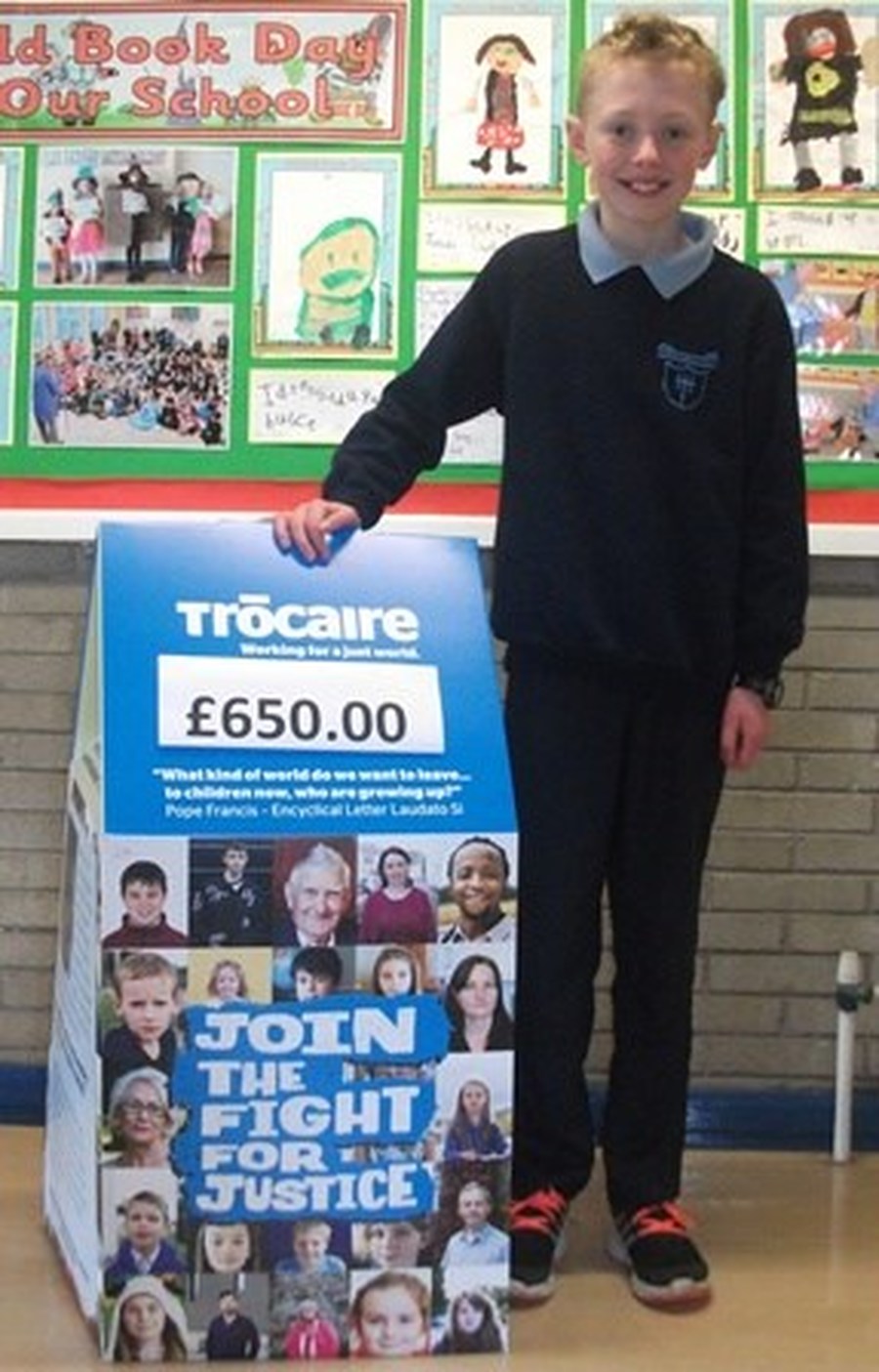 'Green Day' celebrations at St Patrick's on Thursday 16th March
Primary 7 pupils from both St Patrick's and St Mary's received the sacrament of Confirmation on Monday 13th March.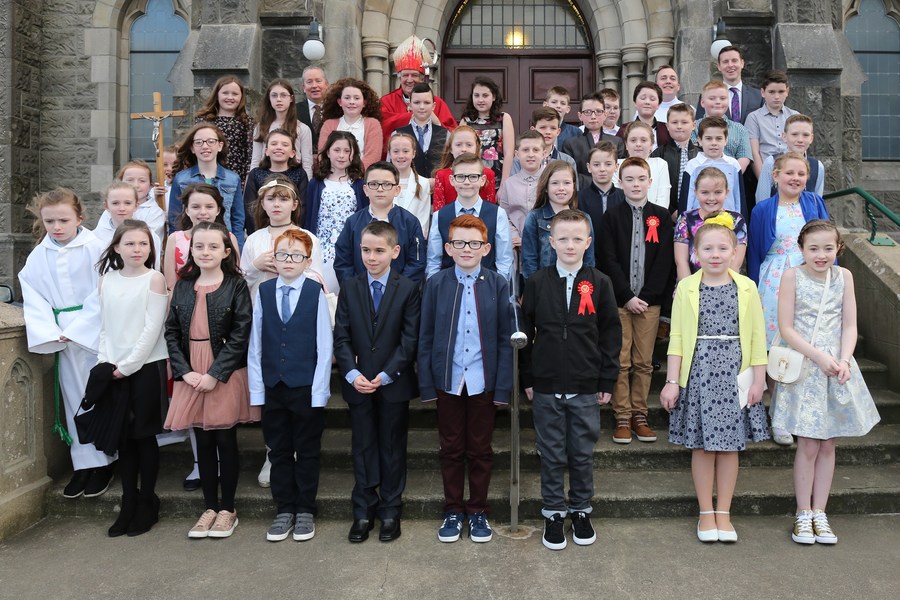 Pictured below are some photos from our World Book Day celebrations at St Patrick's which was enjoyed by all our pupils and as you can see, by our staff also. Lots of the pupils favourite book characters where included such as:
Mad Hatter, Dorothy Matilda, Alice in Wonderland, Peter Rabbit, The Scarecrows Wedding, Dennis the Menace, The Lion, Witch and the Wardrobe, Little Red Riding Hood and even Willy Wonka (senior) meets Willy Wonka (junior) :)
Well Done to all pupils and staff for their fantastic efforts. All monies raised will go to Trocaire
St Patrick's has been awarded Southern Region Best Kept Primary School 2016. Another great achievement for our school.
Well done to everyone
What an end to a great sports day with the Mr O'Hara raising our ECO flag while the children sang a St Patrick's song.
Our School has been awarded a prestigious Eco-Schools Green Flag by the environmental charity Keep Northern Ireland Beautiful.
The Eco-Schools Programme is the world's largest Environmental Education programme and aims to make environmental awareness and action an intrinsic part of the life and ethos of a school. Its participatory approach and combination of learning and action makes it an ideal way for schools to begin improving the environments of schools and their local communities.
The internationally recognised Green Flag is this highest award given to Eco-Schools and symbolises excellence in the field of environmental activity.
Young Enterprise

Volunteering

The holiday list for 2016/17 has been posted in the Newsletter section.
We have a new Healthy Kids programme starting in September. Please click here for details.
St. Ronan's Partnership Letter is available here.
Our school has been awarded a prestigious Eco-Schools Green Flag by the environmental charity Keep Northern Ireland Beautiful.
The internationally recognised Green Flag is this highest award given to Eco-Schools and symbolises excellence in the field of environmental activity.
..